Photo Tour Brugge offers you premiere photo-focused city walking tours in lovely(!) medieval Brugge/Bruges Belgium, as seen through the eye of resident travel photographer Andy McSweeney.
Since 2012, this unique tour combines the very best aspects of a guided walking tour and a travel-focused photography workshop, made to get you the best shot at an exciting photo moment. Regardless of camera, skill level or style of shooting, every tour provides practical photo tips & custom-tailored advice that'll be of use both in Brugge and beyond.
With routes planned both for best available light and maximum visual appeal, Andy also freely shares sample photos along with practical and creative tips towards better results. Above all, the goal is getting you the best possible shot.
Inspirational. Optionally educational. Fun.
See Brugge from a fresh perspective!
Available as Open or Private Tour
Available only as Private Tour
We're here to get you the very best of Brugge, both on camera and otherwise.
While our main focus is obviously on better photography, we also provide some thoughts on the locations we visit.
Expect some historical info to go with the photos, local anecdotes, and honest advice for enjoying Brugge once you put the camera down.
Why go somewhere if it's just for the photos?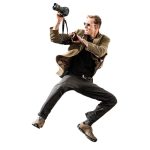 The man who started all this photo tour fun in Brugge,
your guide and "Photographer on the Loose" Andy.
He loves his job: Loving everything in photography.