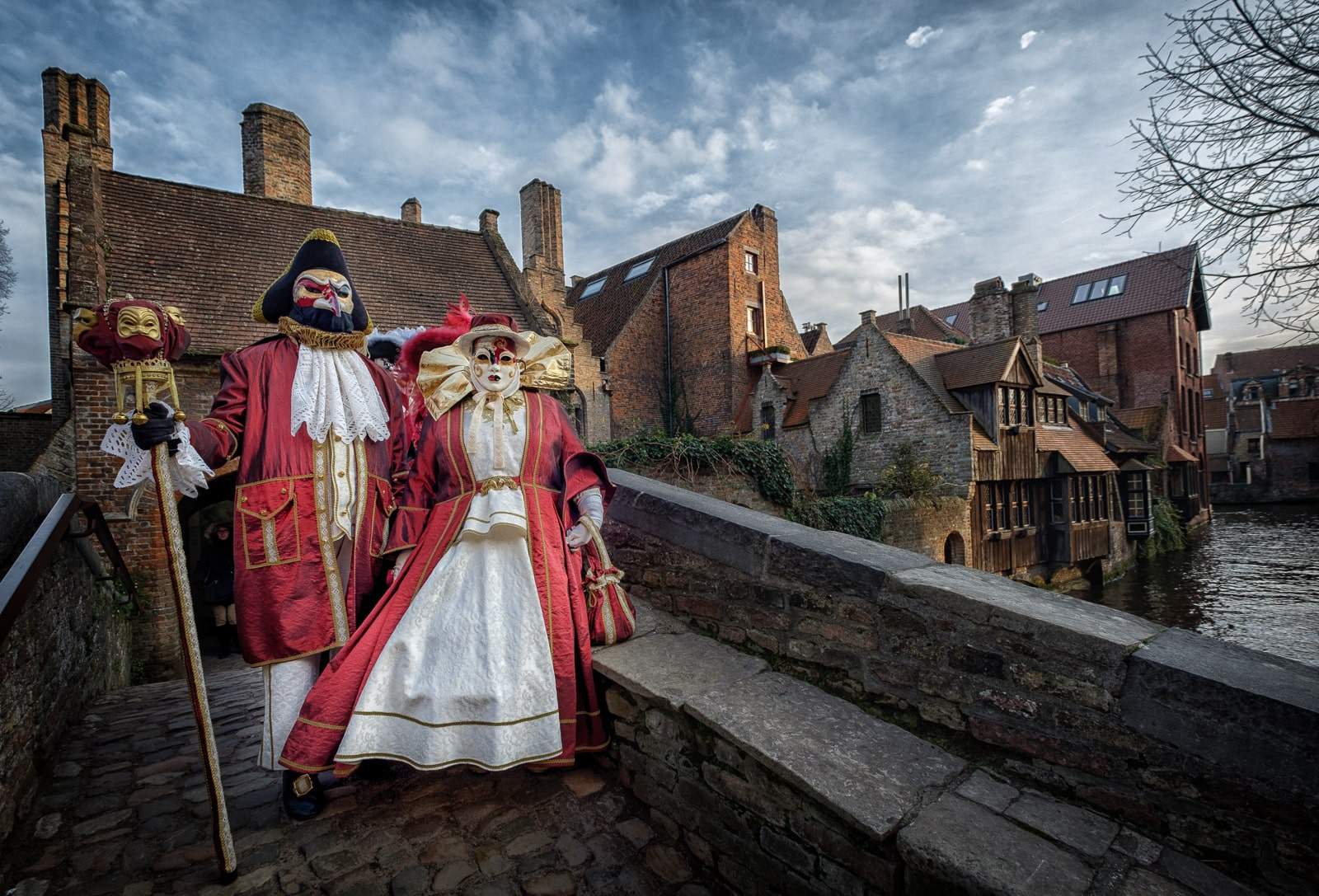 Costumés in Bruges 2020
Date/Datum: January 18 2020 10am & 2pm
About
For the 2020 edition there will be 35 Costumés in Bruges on invitation by the Brugs HandelsCentrum (Shopping Brugge) with Piet Vanderyse for a one day parade (morning and afternoon, route below) on SATURDAY 18 JANUARY 2020.
In the tradition of the real Venice Carnival the participants design and compose their costumes with months of devotion with eye for detail and ornaments.
History
In September 2015 the international group of "Costumés de Venise" was invited for the first time to Bruges by Rita Peers for the annual Streetfair in Langestraat/Hoogstraat.
The success and many positive reactions on this artistic event laid from 2016 to the organisation of a yearly Pré Venice Carnival in Bruges by the vzw BrugseHotels (Discover Bruges) with Paul Asselman as driving force.
The group Costumés, now under the name of "Regards Vénitiens" would attract thousands of visitors and tourists in the last 4 years with parades and nocturnes.
A real must for each photographer and Venice Carnival fashionista.
10am-12pm Morning Route
Stadsschouwburg
>
Vlamingstraat > Academiestraat
>
Jan van Eyckplein > Biskajersplein
>
St.Jansplein > Wapenmakerstraat
>
Burgstraat > Burg
>
Markt
2pm-4pm Afternoon Route
Markt
>
Steenstraat
>
Simon Stevin plein
>
St Salvators
>
Zuidzandstraat
>
't Zand
>
Noordzandstraat > Geldmuntstraat
>
Eiermarkt
>
Markt
>
Vlamingstraat
>
Stadsschouwburg
>
VBRO